SWALLT Online
SWALLT Online
SWALLT is currently looking for a Webinar Coordinator. If you know of anyone or are interested in serving as the Webinar Coordinator please email adan.gallardo@pomona.edu. We would love to be able to resume having our Webinar series.
Would you like to submit a webinar topic or are you interested in presenting? Please send us an email, we would love to hear your idea board@swallt.org.
SWALLT Online is a quarterly web conference given by professionals in the field of language learning technology for the benefit of SWALLT members. These web "mini-conferences" allow for detailed views on exciting projects and the latest innovations in the field and are always accompanied by informal but rigorous discussion. Currently SWALLT Online is member benefit. Members receive a link for the upcoming talks via the SWALLT listserv. The Language Acquisition Resource Center (LARC) provides the technical platform for these webcasts.
Webcasts are held the 2nd Friday of every month from 12pm – 1pm Pacific.
---
Archives
---
February 8th, 2013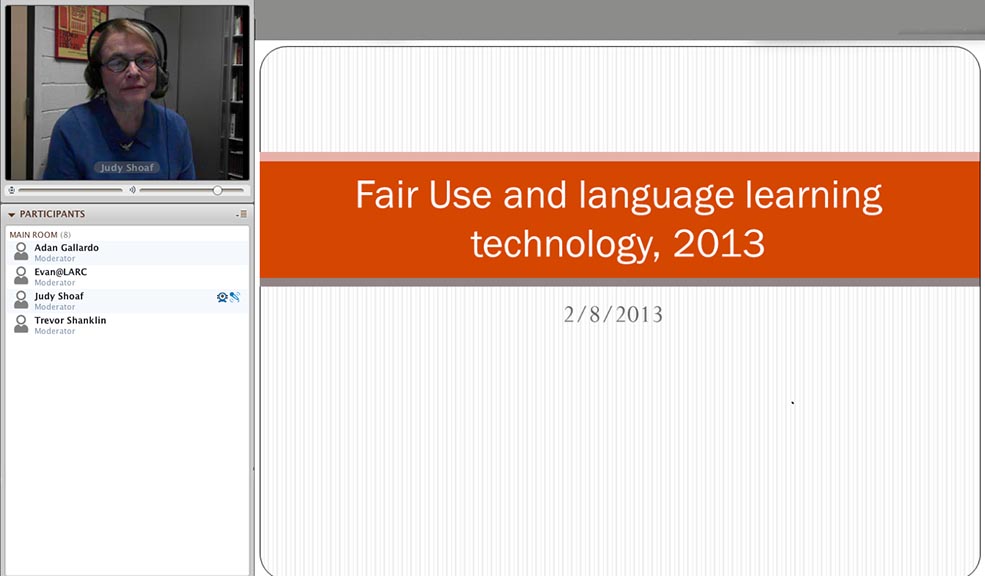 Fair Use and Language Learning Technology
Judy Shoaf, University of Florida
View Recording
Read Full Description
---
October 12th, 2012
Language Assessment Workflows in Language Labs: Roundtable Discussion
Judi Franz, UC Irvine
Harold Hendricks, BYU
Joseph Kautz, Stanford University
Gus Leonard, CSU Monterey Bay
View Recording
Read Full Description
---
March 9, 2012
Unveiling the New Stanford Digital Language Lab: A Collaborative Webinar about Designing Next Generation Language Labs
Joseph Kautz, Stanford University
Beth McCullough, Stanford University
View Recording
Read Full Description
---
January 13, 2012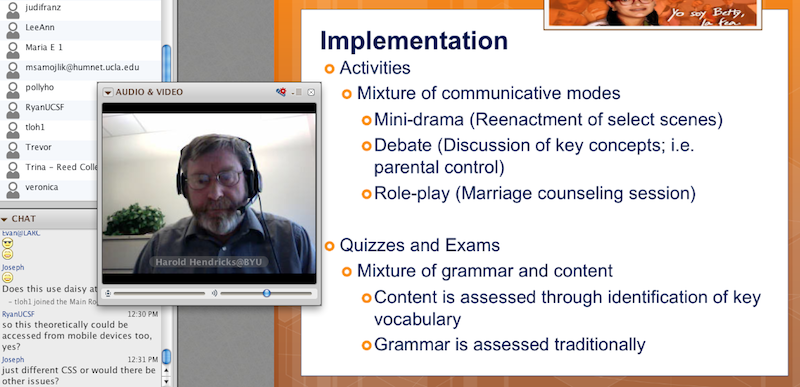 Customizable Streaming Video Playback: A Progress Report
Harold Hendricks, BYU
View Recording
Read Full Description
---
December 9, 2011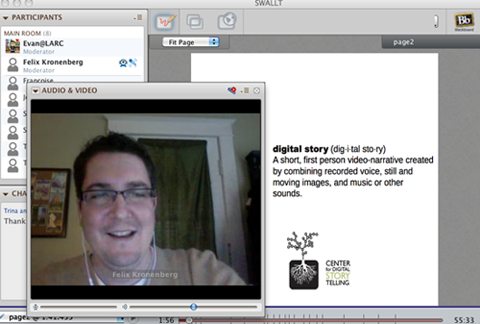 Digital StoryTelling as Participatory Language Learning
Felix Kronenberg, Rhodes College
View Recording
Read Full Description
---
November 10, 2011

Sharing is Caring
Justin Locsei, Oberlin College
View Recording
Read Full Description
---
September 9, 2011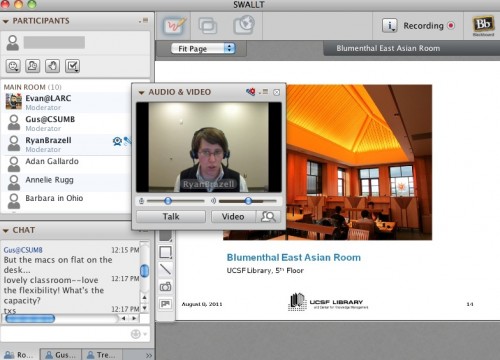 If We Build it, Will They Come?
Ryan Brazell, UC San Francisco
View Recording
Read Full Description
---
March 12, 2010
A Personal (iPod) Touch to Language Teaching and Learning
Enza Antenos-Conforti, Montclair State University
Recording Unavailable
Description Unavailable
---
February 12, 2010
Teaching Literature with Technology
Brenna Byrd, UCLA
Recording Unavailable
Description Unavailable
---
December 11, 2009
Using the Interactive Features of Moodle to Give Focused Feedback to Students
Trevor Shanklin, San Diego State University
Recording Unavailable
Description Unavailable
---
September 11, 2009
General meeting to reconnect and plan the 09/10 academic year for SWALLT
Recording Unavailable
Description Unavailable
---
October 9, 2009
Language Center Solutions during the Great Recession
Multiple Panelists
Recording Unavailable
Description Unavailable
---
November 13, 2009
Stanford's Nonnative Rapper Contest
Joseph Kautz, Stanford University
Recording Unavailable
Description Unavailable